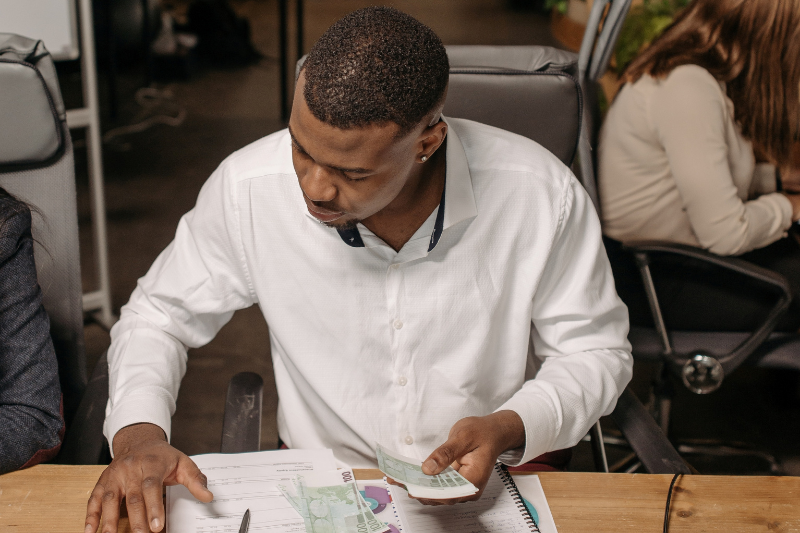 Now is the time to pursue funding for the American Dream –
There has never been a better time for black entrepreneurs to take their business from concept to reality. If you've always dreamed of owning a business, but didn't have the funds to fund it, now is your chance to make those dreams come true.
By Yolanda Goodloe Cowart, Contributor
Over the past few years, the world has been in a constant state of chaos. First it was political upheaval, then racial unrest, and now a major health crisis. We have become almost accustomed to the tumult, to the point that we hardly flinch when a new disaster strikes.
John Milton was the first to say, "every cloud has a silver lining". Luckily for us, that holds true even in these dark times of black history. The political upheaval has caused more people to take an interest in the state of the nation. Racial unrest gave birth to the Black Lives Matter movement and the current climate of diversity and inclusion. The pandemic and its confinement(s) have awakened the desire to reconcile employees' professional and private lives, giving rise to the Great Resignation.
Change is in the air; it's clear. With the current push towards diversity and inclusion, many institutions have grown to provide resources to minorities in areas where they have traditionally been marginalized. Entrepreneurship is one area that has seen an influx of opportunity.
When it comes to building and sustaining a business, securing capital has often been one of the biggest challenges for Black entrepreneurs. In recent years, a fallout from racial unrest has been the exposure of funding disparities for minority-owned small businesses. This has led to an increase in funding opportunities in non-traditional loans, grants, banking institutions and market funding platforms.
Non-traditional lending platforms
Traditional banks have an outdated and cumbersome lending process, with regulations that are not friendly to small businesses, especially black-owned businesses. Startups are essentially disqualified from obtaining funding through these financial institutions, as a five-year profile is usually required before an offer is extended.
Non-traditional lending platforms grant microloans and finance business start-ups. They also have more accessible qualifications than banking institutions. These platforms are viable alternatives for small business owners as they have lower credit requirements.
Traditional banks generally refuse loans to borrowers with credit scores below a threshold of 600 to 650. In addition, many minority-owned entrepreneurs do not meet some of the additional requirements for loan approval by banks. traditional banks. A recent study found that 31% of black applicants were asked to provide their personal W-2 forms during the bank loan process, while no white applicants received such a request.
Another advantage of non-traditional lending platforms is that they have a faster approval process. With some non-traditional business loans, you can access the financing you need within a week. If you want to learn more about this financing option, here are some non-traditional lending platforms to consider:
Community Development Finance Institutions (CDFIs) – With CDFIs, you don't need as many collateral as a financial institution would require
Venture Capitalists (VC) – VCs participate in the ownership of the business for capital. It's a good option for companies or startups that don't have collateral for a loan. The percentages of ownership in relation to the capital are negotiable
Partner Funding – Another organization in your industry provides funding for special access to your product, staff, distribution rights, final sale, or a combination of these. The partner company is usually a larger company, perhaps in a similar or complementary industry
Bank loan
Although banks have long engaged in practices that have marginalized minority business owners, some have moved towards a more inclusive process. Banks are increasingly keen to support minority businesses. An example of this effort is Citi, which has pledged $1.15 billion to close the racial wealth gap with strategic initiatives to expand banking and access to credit in communities of color and invest in black entrepreneurship. This includes $350 million in sourcing opportunities for suppliers to Black-owned businesses and $50 million in additional impact investment capital for Black entrepreneurs.
Union Bank is another example of a financial institution that is committed to supporting underserved communities through its Business Diversity Lending Program. This program is designed to help businesses owned by women, minorities and veterans by providing them with the credit and financing needed to grow and prosper.
At the local level, Raymond James Financial, Regions Bank, First Home Bank and PNC have all created outreach programs to increase lending and improve opportunities for minority-owned businesses. In 2021, the PNC Foundation announced a $16.8 million grant to support and grow Black-owned businesses through the Howard University Center for Entrepreneurship, and last year First Home Bank hit its target. to lend $50 million to minority-owned businesses.
These banks have all increased their commitments to address the financial challenges faced by minority-owned small businesses and address the inequities that exist in the world of credit.
Subsidies
For the first time in decades, grants are another funding opportunity for small businesses awarded by federal, state, and local government and private entities like corporations and foundations. The only catch is that finding and applying for this type of funding can take time and effort. If you want to learn more about this financing option, here are some bank loan and grant opportunities:
Union Bank – Business Diversity Lending Program
Business For All – Offers a total of 18 grants representing $285,000 to Business for All applicants. Thirteen of these grants will be awarded to businesses led by women, people of color, LGBTQ+ entrepreneurs, military-related business owners, and entrepreneurs with disabilities.
Small Business Innovation Research (SBIR) and Small Business Technology Transfer (SBTT) powered by the Small Business Administration – currently, entrepreneurs of color, women, and people with disabilities are encouraged to apply.
Market financing platforms
Marketplace funding platforms are available for minority-owned businesses and startups. Examples include crowdfunding platforms that allow companies to pool small investments from different investors instead of having a single source of investment.
Peer-to-peer (P2P) lending platforms are another example of introducing borrowers to lenders through various websites. This form of lending is a hybrid of crowdfunding and market lending, and it gives people with little working capital to lend to other people – peers.
Lending Club & Prosper are two of the most notable P2P lending platforms in the United States.
iFundWomen – A crowdfunding platform for women-owned businesses. They also have a program for women of color, provide access to grants, business coaching, and more.
There has never been a better time for black entrepreneurs to take their business from concept to reality. If you've always dreamed of owning a business, but didn't have the funds to fund it, now is your chance to make those dreams come true.
However, you must recognize that this period is unique in that oppression and unrest give way to positive change. As such, these funding opportunities will not always be available. Now is not the time to sit and wait for your dreams; this special climate and business opportunity may only be here for one season.
Yolanda Goodloe Cowart is a PTAC specialist at Florida PTAC at Pinellas County Economic Development. Learn more about sbdctampabay.com/ptac.


Post views:
182