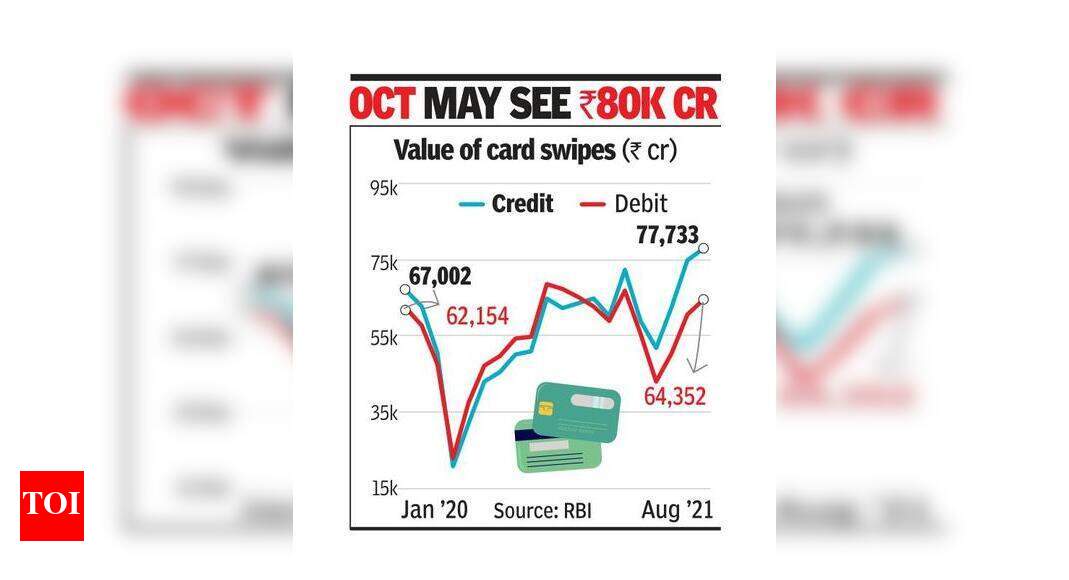 Credit card spending peaked Rs 2 lakh in second quarter
Mumbai: Spending is making a comeback. The July-September quarter set a new record with the value of credit card transactions expected to have crossed Rs 2 lakh crore. According to payments industry officials, as transactions in September equaled or surpassed August, total transactions for the quarter would exceed Rs 2 lakh crore.
Banks expect the spending frenzy to continue due to coordinated online and offline sales coupled with greater openness to travel and hospitality. October could see a new monthly
credit card
spending record of Rs 80,000 crore, according to banks.
Credit card spending has been hit hard in the first nine months of the pandemic (March 2020 to December 2020), with debit card spending exceeding credit for that period. October started off with a bang with the reopening of shopping centers and online sales.
"Spending resumed in August with festivals. Usually September is muted, but this year we have seen a 50% increase over last year despite a period of shraadh where spending is muted, "said Kush Mehra, president of Pine Labs, a trading platform for payments. According to him, there are several factors at work. "What drives up the volumes is that the basket size has increased. There has also been a record deployment of point-of-sale terminals in small towns. We plan to add 30,000 terminals in one month. The average ticket size has increased due to the 'buy now, pay later' option on the cards and we have seen a doubling of our BNPL program, "he said.
Innoviti, another payment solutions provider for big box retailers across the country, was surprised by the surge in in-store sales last weekend despite the shraadh period. "Volumes were 17-18% higher than in September before Shraadh," said Rajeev Agarwal, CEO of Innoviti. "One idea we got was that the media campaigns of the e-commerce giants were leading to an increase in showroom visits and that many were able to convert customers," he said.
Although travel and hospitality payments are still low, Mehra said, this could be one of the reasons for the rise in consumer spending in stores. "With trips not opening, many are using the money set aside for vacations to buy stuff," he said.
Parag Rao, head of payments, consumer credit, digital banking and IT at HDFC Bank said on Tuesday that the bank has seen a significant revival on the ground. "Our line of festive credit
card offerings
are not only aimed at making a comeback, but also boosting India's consumer history," Rao said.
Total credit
card transaction
values ​​are increasing due to an increase in the number of cardholders as well as an increase in average card spend. Average credit card spending was Rs 11,939 in January 2020 before the pandemic, after slipping to a record low of Rs 3,636 in April 2020, it has gradually increased to a high of Rs 11,655 crore in March 2021. However, the second wave of the pandemic brought the average spending per card down to less than Rs 10,000 in the first quarter. In the second quarter, with the ebb of the second wave and the increase in vaccinations, the average expenditure per card reached a record of Rs 12,158.